Israeli Official Incitement between March 25 –...
Israeli Official Incitement between March 25 – April 30, 2018
Israeli Official Incitement between March 25 – April 30, 2018
Israeli Incitement Reports

Israeli Official Incitement between March 25–April 30, 2018   
This report includes examples of recent inciting statements made by top Israeli officials and media figures to justify and to even encourage the murder of Palestinians at the hands of the Israeli occupation forces.
I. On the Protests of the Great Return March
The Head of the Arab Media Division of the Israeli Army Spokesperson's Unit, Avichay Adraee (Twitter, March 25, 2018)
"The IDF warns of events in which citizens are invited for alleged demonstrations that are used as cover to disrupt security infrastructure or to affect the citizens of a State or the IDF #Israel soldiers. We will continue to respond with strong hands against any attempt of this kind"

Avichay Adraee (Twitter, April 6, 2018)
"Who thinks he can hide from behind the lenses of our forces is wrong, we see you clearly, and we will not allow anyone to try to touch on the security of Israel and the citizens of it. Enough with your naivety and endangering yourselves."

"Defense" Minister, Avigdor Lieberman (Jpost, April 8, 2018)
"You have to understand, there are no innocent people in the Gaza Strip. Everyone has a connection to Hamas. Everyone receives a salary from Hamas."

"Those who are trying to challenge us at the border and breach it belong to Hamas's military wing"
Avigdor Lieberman (Facebook, April 10, 2018) posted a picture on Facebook praising the killings of Palestinians in Gaza stating:
"The sniper deserves a promotion"   
The Israeli Rapper, The Shadow (Facebook, April 14, 2018)
"The Arabs reported that four Hamas terrorist were killed by tank fire, and that it happened" This is not their fire. We say: 'What difference does it make where the fire is fired from? What matters is that we reached 39." (In reference to the number of Palestinians killed up to that date)
Elad Ratson, Director of Public Diplomacy at the embassy of Israel in London (Twitter,  April 2, 2018)
"This year Christians celebrate #Easter, Jews celebrate #Passover and Palestinians in #Gaza celebrate "death to Israel", all at the same time"

Israeli journalist Yivegni Zrovinsky  (Twitter, March 30, 2018)
 "The next time that Israel will be accused of harming the "innocent", do remember this picture of a senior Hamas member, who arrived today to Gaza where there are riots near the fence with Israel, holding a little child on his hands, using her as a human shield."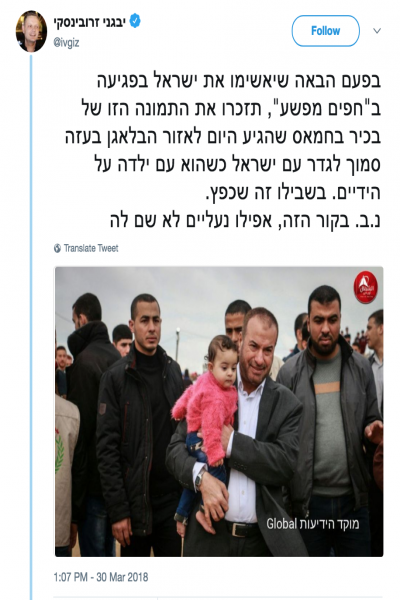 II. On The Killing of Unarmed Palestinian Protestors on March 31, 2018
Avigdor Lieberman (Arutz 7, April 1)
"Israeli soldiers did what was necessary. I think all our soldiers deserve a medal." 

"As for a commission of inquiry – there won't be one."
III. On The Video Posted (on April 8, 2018) of Israeli Soldiers Cheering After Shooting A Palestinian From Behind The Fence Surrounding Gaza
"Anyone who was ever on the battlefield knows that to sit in Tel Aviv or [television] studios and judge IDF soldiers according to their comments, when they are busy defending our borders, is not something serious," said Bennett in an interview with Army Radio.
Public Security Minister, Gilad Erdan:
"Was it so boring in this country over the last day that this video needs to receive such exposure? To take a situation from the battlefield, when soldiers are under stress and explosive devices are being thrown at them and attempts are being made to infiltrate [the border], and to take their human response and judge them from the armchairs in Tel Aviv?"
The Science, Technology and Space Minister, Ofir Akunis:
"He is not an innocent civilian who is coming to seek peace. I'm sure of that,"
"What's all the fuss about? It was noted in advance: anyone who approaches the fence, armed or not, is gonna get it. As it should be!"
IV. On The Killing of the Palestinian Journalist Yasser Murtaja on April 6, 2016
 Avigdor Lieberman
"I don't know who he was, cameraman or no cameraman, anyone operating drones above IDF soldiers must know he is putting himself at risk,"   

 "We won't take any risks." (Reuters, April 7, 2018)
"The photographer (#YasserMurtaja) was a terrorist with a prior association w/ the military wing of Hamas. He held the rank of captain & was paid regularly by Hamas since 2011. He used to fly drones to collect Intel on IDF forces at the front." (Twitter, April 10, 2018)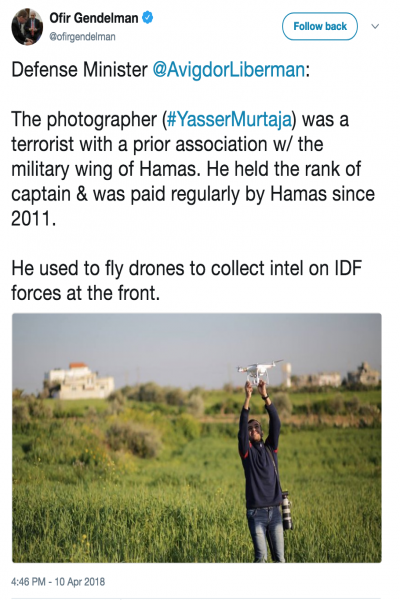 V. On The Killing of the Palestinian Child Mohammed Ibrahim Ayoub on April 21, 2018
Avigdor Lieberman (Arutz 7, April 21, 2018)
"The only culprits in the death of the 15-year-old Gaza boy are the Hamas heads, those cowardly leaders who hide behind children and women and send them forward as human shields so they can continue to dig tunnels and carry out acts of terror against the State of Israel. We already know of the use of terror in UNRWA facilities, hospitals, and mosques in the past. Also in activity yesterday we saw the IDF the most moral army in the world, making the utmost effort to avoid harming innocent people. I repeat to the residents of Gaza, a tip for longevity: Stay away from the fence."
VI. On the Arrest of Ahed Tamimi 
Bezalel Smotrich, Deputy Knesset speaker, incited against Ahed Tamimi on a now deleted Twitter post stating:
"In my opinion she should have gotten a bullet, at least in the kneecap. That would have put her under house arrest for the rest of her life."
Bezalel Smotrich on (Facebook, April 22, 2018)
 "Ahed Tamimi is not an innocent "girl" whom I want to shoot in vain. She is a terrorist whose activities harm security and endanger the citizens of Israel"
VII. Additional Examples
Israeli Ambassador to Ghana, Ami Mehel: (Middle East Monitor, April 11, 2018)
"There is no OPT [occupied Palestinian territory], there is no Palestine, there was never Palestine. It's Israel, he [Ghanaian parliamentarian Ras Mubarak] wants to enter Israel!"
Former Education and Interior Minister, Gideon Sa'ar (Jpost, April 30, 2018)
 "Hamas in the Gaza strip and the Palestinian Authority in the West Bank are responsible over the welfare of their people, but cannot be allowed to build a sovereign nation" while Israel's security concerns remain unaddressed."