Israeli Official Incitement: October 2018
Israeli Official Incitement: October 2018
Israeli Official Incitement: October 2018
Israeli Incitement Reports

Israeli Official Incitement between October 1 – October 31, 2018
This report includes examples of recent inciting statements made by top Israeli officials and military personnel against the Palestinian people including prisoners and martyrs and the Palestinian Bedouin village of Khan Al-Ahmar. It highlights inciting statements against UNRWA, BDS movement as well as Human Rights Defenders. It also includes statements made against the Palestinian President and leadership, as well as against the indigenous Palestinian citizens of Israel.
I. Palestinian Prisoners and their Families/Martyrs
MK (Likud) Yoav Kisch (Twitter, 28 October) 
"I have promised and is committed. No terrorist or collaborator will benefit from administrative early release. They will have to complete their prison sentence in full. The interior committee, chaired by me, approved by voting a bill which states that: the terrorists and those collaborating with terrorism won't get any benefits. A terrorist will remain in jail till last day of his sentence. There are no awards for terrorism."
MK (Jewish Home) Oren Hazan (Twitter, 24 October)
"Moving to halt visits to terrorists, which I initiated and was passed in the final voting today, is part of a struggle designed to make the lives of the assassins bitter in jail. The place of human scum, they must rotten in a deep grave in the ground, but till that happens we must suppress them and leave them isolated in misery with no future, no hope or a dream! In god's will...the day will come to deprive them of life as well."
MK (Likud) Anat Berko (Facebook, 24 October)
"…funding the medical treatment given to the injured terrorists while they are on their way to commit attacks against Jews, or to security prisoners must not be at the expense of Israeli tax payers. Hear this fact: according to data provided by Israel's Prisons' Authority, we pay between 42 to 45 million shekels for medical treatment to security prisoners. This funding must come from the pocket of the PA who is sacrificing those who are coming to kills us…."
MK (Yisrael Beitenu) Oded Forer (Twitter, 23 October)
"The dog who killed for a nationalistic reason, and who does not regret that, it seems he is simply awaiting the shortening of his sentence by one third. If the halter was dangling over him, and if he was unable to have his sentence shortened by one third, his friends would have been deterred. I call upon my colleagues in the coalition – to put aside your political considerations and support the death penalty for terrorists, and cancel the possibility of shortening their sentences by one third."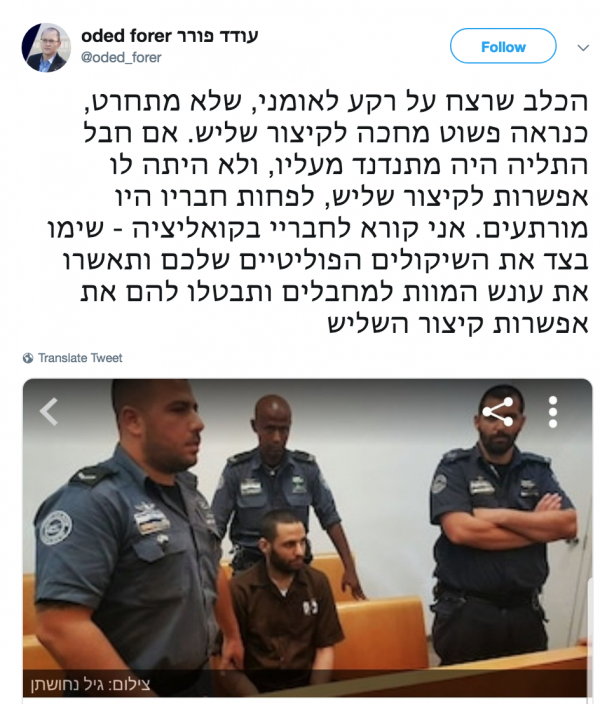 Minister of Public Security, Minister of Strategic Affairs, Minister of Information MK (Likud) Gilad Erdan, (Facebook, 16 October)
"Sleazy terrorists must pay a heavy price for their actions, and their punishment should not be shortened for even one day. I am pleased that the Attorney General has supported my opposition in regards to the shortening of the terrorists' sentences. Despite the High Court of Justice decision to shorten prison terms and release prisoners in order to increase the average living space in prisons, terrorists will not be released…"

Minister of Agriculture and Rural Development, MK (Jewish Home) Uri Ariel (Twitter, 11 October)
"We must immediately regain deterrence to stop the bloodshed against Jews. We must respond with an iron hand including the demolition of houses, expelling families of terrorists and immediately annulling the 'privileges' and 'prizes' that the terrorists' families receive!"
Deputy Minister in the Ministry of Defense, MK (Jewish Home) Eli Ben Dahan (Twitter, 7 October) in an interview with Kann News
 "There is deterrence but not enough...it is time to expel the families of terrorists, even those living inside Judea and Samaria (Occupied West Bank)…"
MK (Likud) Nava Boker (Twitter, 7 October)
 "...we are talking here about terrorists who incite to kills Jews under the patronage of the 'partner' Abu Mazen, who pays salaries to despicable murderers, amounts that Palestinians could dream of. We should deduct all money that the Palestinian Authority allocates from its budget and tightens punishment against terrorists."
II. The Ongoing Israeli Assault on Gaza
MK (Likud) Oren Hazan (Twitter, 24 October)
"…Let us stop looking for excuses, if we won't bomb and destroy Hamas (not the sandy hills) this won't end."
Spokesman of Israel's Occupation Army to the Arabic Press, Avichay Adraee (Twitter, 19 October)
"Terror tools and their ramifications. Isn't it the time to get rid of this terrorism which is time and again dragging the #Gaza Strip into slides (for) and investing funds and resources for construction and prosperity?"

The President of Israel, Reuven Rivlin (Twitter, 17 October)
"With #UNSCO envoy Mladenov today: "#Israel will not stand by while our people are under attack, and the world must know that. We will respond, using all necessary force, until there is calm. As long as Gaza is controlled by Hamas it is responsible for every attack on Israel."

PM (Likud) Benjamin Netanyahu's Statement during Cabinet Meeting  (PMO website, 14 October)
""Hamas, apparently, has not internalized the message. If they do not stop the violent attacks against us, they will be stopped in a different way and it will be painful – very painful. We are very close to a different kind of activity, an activity that will include very powerful blows. If it has sense, Hamas will stop firing and stop these violent disturbances – now."
MK (Jewish Home) Moti Yogev (Twitter, 13 October)
"As a member of the Foreign Affairs and Defense committee, and with the absence of our will to escalate in Gaza, I can say that the absence of our response leads to escalation, frustrates our soldiers and exposes them to danger. It is time to respond, not by blocking fuel and power from people but by liquidating Hamas leaders. Such definitive responses, might lead to further deterioration but it will restore deterrence and security to Gaza periphery."
Minister of Education and Minister of Diaspora Affairs, MK (Jewish Home) Naftali Bennett in his speech before INSS (8 October)
"Every day Palestinians enter and put explosive devices and return back to Gaza, we must kill them, we have done so over the past 70 years and we must continue to do that."
Minister of Education and Minister of Diaspora Affairs, MK (Jewish Home) Naftali Bennett (Facebook, 2 October)
"….from the first moment I decided that we have to open fire towards launchers of explosive kites, but Lieberman is suppressing himself and showing weakness. Whoever launches an explosive balloon is a terrorist that must be eliminated and is not an 'innocent child'."
III. Khan Al-Ahmar Bedouin Village
MK (Jewish Home) Bezalel Smotrich (Twitter, 22 October)
"Sovereignty, strategic territories, national honor, the rule of law and other reasons are all together a good and sufficient excuse to be absent from the voting and go to Khan Al-Ahmar to make a clear statement: the illegal site must be evacuated here and now…"

Deputy Minister in the Ministry of Foreign Affairs, MK (Likud) Tzipi Hotovely (Twitter, 22 October)
"Field tour in Khan Al-Ahmar, the state must respect the rule of law. Khan Al-Ahmar is an illegal Bedouin site, the ruling must be to evacuate it."

PM (Likud) Netanyahu's Statement During the Cabinet Meeting (PMO website, 21 October)
"Khan Al-Ahmar will be evacuated, with or without an agreement. It will not take weeks; it will be much shorter. We will make several vital preparatory moves in the international arena. We will give a last chance for evacuation via an agreement but in any case Khan Al-Ahmar will be evacuated. I am not talking about a superficial evacuation but a real evacuation."
Minister of Education, Minister of Diaspora Affairs, MK (Jewish Home) Naftali Bennett (Twitter, 20 October)
"Khan Al-Ahmar will be evacuated. We are talking here about illegal construction that the High Court of Justice approved its demolition. In the state of law, the law should be applied even if the International community threatened and opposed this. The Jewish Home Party will work to make this happen."
Minister of Agriculture and Rural Development, MK (Jewish Home) Uri Ariel (Twitter, 20 October)
"Enforcement of the law cannot be done only against Jewish communities. This is a significant violation of the sovereignty and the administration of the right wing government in Israel. I call upon PM to retract his decision and evacuate Al-Khan Al-Ahmar this week as scheduled…"
MK (Likud) Yoav Kisch (Twitter, 20 October)
"I think that after nine years of negotiations on evacuation, it is over. The message is simple…Khan Al-Ahmar will be evacuated. Each decision made by the cabinet in this regard must include short timetables that are related to the termination of the dialogue's attempts and setting up the mean for evacuation. It is not allowed to give an award for European Countries' blatant intervention."
MK (Jewish Home) Bezalel Smotrich (Twitter, 20 October)
"Postponing the evacuation is a strategic danger for at least three reasons, and so we must cancel this."
IV.  President Mahmoud Abbas and the Palestinian Leadership
MK (Likud) Avi Dichter (Twitter, 23 October)
"The chairman of the PA must understand that Israel is a democratic state, which passed a law in the Knesset by an overwhelming majority of 85 members, to deduct the money paid for terrorism from the PA. This is a law against terrorism and against those who fund terrorists the murderers, the only way for Abbas to prevent the application of this law is by stopping paying salaries to terrorists!.."
Deputy Minister in the Prime Minister's office, MK (Kulanu) Michael Oren (Twitter, 11 October)
"Palestinians who strive to isolate Israel will only succeed to isolate themselves. Abu Mazen rejects to talk neither with Israel nor with the Americans and now even with the United Nations. It seems he is only interested in talking with the leftovers of Kadima Party."
Deputy Minister in the Prime Minister's office, MK (Kulanu) Michael Oren (Twitter, 9 October)
"Egypt President el-Sissi pressures Abu Mazen to cease pushing Hamas into a war with Israel that only he wants. The world must follow Egypt's example and stop the PA from pitching the Middle East into another conflict and dashing all hopes for peace."
MK (Likud) Anat Berko (Facebook, 7 October)
"Any agreement with the Palestinians is not worth even the price of the papers, as long as there are those who hate and incite against the Jews from all their hearts…"
Minister of "Justice" MK (Jewish Home) Ayelet Shaked (Twitter, 7 October)
"The incitement led by Abu Mazen and the Palestinian Authority is penetrating everywhere and encourages murder and terror. There is no meaning to hold negotiations with those encouraging terror."
Minister of Regional Cooperation, MK (Likud) Tzachi Hanegbi (Twitter, 7 October)
"This is also another chance for President #Abbas to show he can be a man of peace by unequivocally condemning the murders and announcing the end of the #Palestinian pay to slay policy. He has failed this basic test of human decency every time. Will today be any different?"
Minister for Social Equality, MK (Likud) Gila Gamliel (Twitter, 7 October)
"The incitement of the Palestinian Authority leads to extreme places where the people who are giving bread to thousands of families are killed…"
Minister of Culture and Sport, MK (Likud) Miri Regev (Facebook, 4 October)
"The opening of this playground here sends a message to those who praise martyrs and are not ashamed. Abu Mazen in his speech before the UN praised the martyrs. You praise those who want to die, and we praise and cherish life because we want life."
V. The Indigenous Palestinian Citizens of Israel
Minister of Culture and Sport, MK (Likud) Miri Regev, wrote a statement against the Palestinian detained writer Walid Daqqa who is from BaqaAl-Gharbiya inside Israel (Facebook, 9 October)
"The terrorist….who wrote a story for children is given a podium to launch his book. He must be rotten in jail and must not be respected…this absurd theatre [Al-Midan Theatre in Haifa] carried out two battles first by giving respect to the terrorist Walid Daqqa, and second by launching his book in Baqa Al-Gharbiyeh...today the book of the terrorist Walid Daqqa will be launched..a terrorist who writes a book for children to encourage more kids to become terrorists, he is encouraging them to become martyrs…we must put a limit to this absurd theatre , we must stop all terrorists and not give them podiums anywhere…"
MK (Yisrael Beitenu) Oded Forer against MK (Joint List) Haneen Zoabi (Twitter, 29 October)
"It is funny that some people think that you are not a terrorist. As you refused to call the killers of Gilad and….as terrorists, you also give support to terrorists in Gaza, whoever supports terrorists….is a terrorist, I do not understand how there are members in the coalition who did not sign the letter of your dismissal."
MK (Likud) Anat Berko (Twitter, 9 October) Responding to MK (Joint List) Jamal Zahalqa's Tweet on 9 October
"I was among those who criticized Avi Dichter, also there was an understanding and support to Israel's security needs at the EU parliament that is because the terrorism in Europe is not different than the Palestinian terrorism that you support….."
MK (Jewish Home) Anat Berko (Facebook, 1 October)
"…..Whoever did not recognize the state of Israel in 1948 responded positively to Arafat's invitation in October 2000 to participate in the Intifada. Many Arab citizens of Israel joined the terrorists in West Bank and Gaza strip but our security forces confronted them with an iron hand, so another memorial day was recorded for the terrorists, the strike the Arab following- up committee started today…to which many Arabs in Israel join it together with the Palestinians from the other area...a wonderful harmony!...whoever supports the enemy (like Hamas and Hamas and Hizbullah and Iran….) and works with the terrorism against us as it happened in October 2000, will know the strength of the Israeli society and their desire to live…"
VI.  The Boycott, Divestment and Sanctions Movement (BDS)
Dr. Anat Berko ( Facebook, October 20)
"Yet another confusing decision made by High Court of Justice! That is the decision to allow Qassem, the chief of BDS movement, to study in the Hebrew University….all the court and security apparatuses who studied the case of Lara Al-Qassem acknowledged that she must be dismissed out of Israel. This decision creates the feeling that those are seeking our friendship are taking advantage of our state institutions to harm us…let us not deceive ourselves, Mrs. Qassem did not arrive to us holding the white flag, she is a Trojan…"
Minister of the Development of the Negev and Galil, Minister of the Interior Aryeh Deri (Twitter, 18 October)
"The decision to keep the student [Lara Al-Qassem] who is publicly working against the state of Israel in Israel is shameful. Where is our national honor? In the US she also dared to work against the state and she is requesting to stay here and study? I will check how to prevent the occurrence of such an incident."
Minister of Public Security, Minister of Strategic Affairs, Minister of Information, MK (Likud) Gilad Erdan (Facebook, 8 October)
"…Lara Al-Qassem who closed all her accounts and deleted her statements from the social media networks before she arrives to Israel…has worked as the chief of a branch of the Students for Justice in Palestine organization (SJIP) , which is considered the most violent and extreme BDS organization, this odious organization is involved for years in the boycott campaign against us, also in taking tens of decisions to boycott Israel, it is responsible for creating an atmosphere of hatred against Israelis and Jews in the American universities..."
VII. TIPH (Temporary International Presence in Hebron) / B'Tselem (The Israeli Information Center for Human Rights) and other Human Rights Organizations
MK (Jewish Home) Moti Yogev, (Twitter, 28 October)
"On the one hand, Israel is fighting extreme organizations like B'Tselem and Breaking the Silence, and on the other hand it is extending the tenure of TIPH. There is no justification for that!"
MK (Likud) Yehudah Glick (Twitter, 28 October) 
" ...an important discussion is taking place about the TIPH organization, which is supposed to be a body that preserves calm in Hebron, has become an inciting and disturbing factor.."
MK (Zionist Camp), Eitan Cabel (Twitter, 18 October)
"It must be said clearly and unequivocally: The statements of the Director General of B'Tselem at the United Nations about the IDF soldiers and the judges of the High Court of Justice are words of a vicious and vile act."
Minister of Communications MK (Likud) Ayoub Kara (Twitter, 18 October)
"The Director General of B'Tselem talks in the UN at least as if he is the spokesman of Hamas. He calls for taking measures against Israel! I call for taking measures against B'Tselem. It is time to oust B'Tselem organization which is cooperating with the enemies of Israel and distorting our image in the world, and works with those boycotting us, it does not support our soldiers who are defending our security, oust it out of the law…records of shame."
Knesset Speaker MK (Likud) Yuli Edelstein, (Twitter, 18 October)
"The lies of the Director General of B'Tselem proves once again that this organization is illegitimate. One day after Palestinian terrorists launched a rocket towards a house accommodating three children, Hagai Elad sees that it is appropriate to spread the lies in an attempt to harm the right of Israel in defending itself. B'Tselem, be ashamed!"
Deputy Minister in the Ministry of Foreign Affairs MK (Likud)  Tzipi Hotovely (Twitter, 18 October)
"In the fantasy world of the Director General of 'B'Tselem', there is no Hamas, no Palestinian responsibility, no Palestinian terror but there is only an endless self-flagellation. The disease of hatred is worse than all the lies I've heard this evening."
Minister of Culture and Sport, MK (Likud) Miri Regev (Twitter, 18 October)
"How shameful, how despicable. Hagai Elad you have officially joined today the group of Trojans from the joint list that aim at harming the IDF and the state of Israel."
MK (Yesh Atid) Yair Lapid, (Twitter, 18 October)  
"The speech made by the Director General of B'Tselem at the UN is a collection of lies, distortions and propaganda."
PM MK (Likud) Benjamin Netanyahu (Twitter, 18 October)
"While our soldiers are preparing to defend Israel's security, the Director General of 'B'Tselem' chooses to make a speech at the UN that is full of lies in an attempt to assist the enemies of Israel. The conduct of B'Tselem is a disgrace to be remembered as a short and transient episode in the history of our people."
Minister of Economy and Industry MK (Kulanu) Eli Cohen (Twitter, 18 October)
"B'tselem: Nazis from within."
Minister of Agriculture and Rural Development MK (Jewish Home) Uri Ariel (Twitter, 13 October)
 "…B'Tselem proves again that it belongs to the Palestinian inciting machine, it spreads hatred in all directions. Disseminating the lies of B'Tselem outside the house causes harm and leads to wrong biased decisions that harm the state of Israel."  

MK (Likud) Oren Hazan posted on Facebook (Later it was Deleted)
"The public must help to arrest the wanted. Hagai Elad, the Executive director of 'B'Tselem' the disloyal who is touring the world to achieve only one goal – to destroy the reputation of IDF and the state of Israel…this time the liar crossed the red line, if anyone knows any information about his place and the date of his return must inform me. I intend to wait him in the airports of the world and hand him for investigation in Israel's Police Bureau. If you see him in the plane or in any of the airports abroad inform me, I would be pleased of that, so that I could end his treasonable activities and throw him in jail where he belongs. A precious prize will be given to whoever finds him…people like him must rotten in jail…"
VIII. Additional Examples
MK (Jewish Home) Moti Yogev (Twitter, 17 October)
"Torah will go forth from Zion, and UNRWA will be out of Jerusalem…"
Deputy Minister in the Prime Minister's Office, MK (Kulanu) Michael Oren (Twitter, 24 October)
 "United Nations Day was established in 1948, three years after the Holocaust and at the time of Israel's creation. One wonders what its founders would have thought of the organization today, providing a stage for Holocaust deniers and obsessively condemning Israel. Tragic."
MK (Jewish Home) Anat Berko ( Facebook, 10 October)
"I asked today if it is rational in the eyes of the Dutch Foreign and security committee to allow Daiesh [ISIS] to sue its victims in the Hague? Given the same irrational point, there is no place to allow Palestinians to sue the state of Israel over "war crimes" in the international criminal court in the Hague. Palestinians committed and continue to commit countless terrorist attacks against us, they have never been recognized as a state, so how they are allowed to go to international institutions, including the Hague where a gang of terrorists are suing the state of Israel and its soldiers who are defending the citizens from the Palestinian terror? As usual, the Palestinians are not held responsible, they keep paying salaries and pensions to terrorists, encouraging terrorism and then allowing themselves to sue us…."
MK (Jewish Home) Moti Yogev (Twitter, 8 October)
 "…this vision that brings us back to the dangerous hallucinations regarding a state of Palestinian terror, endangers our security and is not responsible for our future. There was no Palestinian state and will never be. The land of Israel goes back to the people of Israel. We will continue to cling to it, including giving autonomous administrative independence to the Arab citizens in Judea and Samaria [Occupied West Bank]."
MK (Likud) Oren Hazan (Twitter, 8 October)
 "…..defense minister, when it is about a whole village of murderers, you should impose collective punishment! Impose a curfew – no one to enter or exit no food no water, until we catch the pig or he hands himself."
Deputy Minister in the Prime Minister's Office, MK (Kulanu) Michael Oren (Twitter, 7 October)
"EU again condemns terrorist murdering innocent Israelis by saying 'violence can never be condoned.' The EU never says that when terrorists kill Europeans. Could it be that the EU agrees with the Palestinian terrorist's motivations just not his methods?"